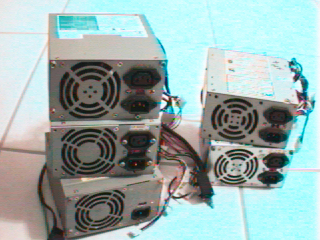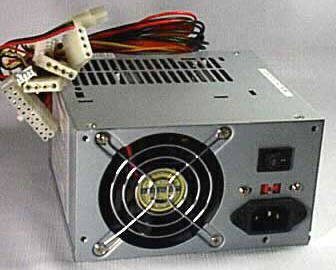 PC power supply repair
PC power supply service
Repairing VS. Buying New


Having the original Power Supply in a PC repaired offers advantages over buying new:
Will the Leeds will reach where they are suppose to go? There is no guarantee a new power supply purchased in a Catalog has correct plugs or wiring that will reach/fit to your peripherals and motherboard in your PC....unless you ask in advance, and they are willing to measure it for you.
Sometimes too, these unique designs with special connectors, are no longer available from original sources. So repair of original Failed unit is required.
Repairing also reduces the amount of refuse dumped in landfills , which helps the environment. If you want to avoid any hassles with Power Supply compatibility, sending in your Supply for a diagnosis / estimate may be the way to go.
Available In Stock as
Overhauled Units:
FOOTNOTES :
PWLL = Power Leed Length
MBLL = Motherboard Leed Length
Click on Thumbnails for enlarged view of Pictures
** ONLY 1 Unit in stock of Each Listed type **

---
AT Form Factor:
$9.99

MFR: ASTEC
AT Case for HP Pavillion / Toshiba Equiva.


145 Watts, Model# SA147-3405
(4) 5 Pin Power Connectors, (1) 3 Pin On-Off Connector.

SOLD OUT !

SEND In Your Failed Unit For Repair / Overhaul

$19.99

MFR: G Power
AT Case for Packard Bell. PB Part No's. 190308-01, 190308-02



150 Watts, Model# GP-4150PB


SOLD OUT !

SEND In Your Failed Unit For Repair / Overhaul

$24.99

MFR: SPS
AT Case, 250W.
PWLL: 16" MBLL: 12"
(2) 4 Pin Connectors @ 10" ea

$24.99

MFR: LCT Technology
AT Case, 235W
PWLL:22" MBLL: 9"
(3) 4 Pin Conn @ 9" ea
ATX Form Factor:

$19.99
MFR: Sparkle Power
ATX Case, 250W
Model#: FSP250-61G
MBLL: 14"
(4) 4 Pin Conn @ 12" ea
(1) 4 Pin Conn @ 17.5"
(1) Floppy Power Cable @ 17.5"
$19.99
MFR: L&C Technology
ATX Case, 350W
Model#: LC-A350ATX


SOLD OUT !

SEND In Your Failed Unit For Repair / Overhaul

$14.99
MFR: GREENTECH
ATX Case, 250W
Model#: LPD2-250W
MBLL: 14"
(4) 4 Pin Conn @ 12" ea
(1) 4 Pin Conn @ 17.5"
(1) Floppy Power Cable @ 17.5"

SOLD OUT !

SEND In Your Failed Unit For Repair / Overhaul

$19.99
MFR: ENLIGHT
ATX Case, 250W
Model#: EN-8254942
MBLL: 12"
(2) 4 Pin Conn @ 12" ea
(2) 4 Pin Conn @ 17.5"
(1) Floppy Power Cable @ 22.5"

SOLD OUT !

SEND In Your Failed Unit For Repair / Overhaul

$15.99
MFR: ENLIGHT
ATX Case, 250W - Top Mounted Exhaust Fan
Model#: ATX250, EN-8257901
MBLL: 12"
(2) 4 Pin Conn @ 12" ea
(2) 4 Pin Conn @ 17.5"
(1) Floppy Power Cable @ 22.5"

SOLD OUT !

SEND In Your Failed Unit For Repair / Overhaul

$19.99
MFR: EVER
ATX Case, 300W
Model#: FSP300-60G

$19.99
MFR: DELL

For Optiplex GX-1
ATX Case, 230W
Model#: PS-523-1
Updated: 12/26/2019